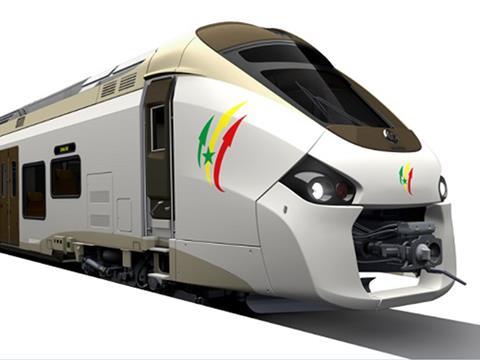 SENEGAL: A ceremony was held in Dakar on December 14 to mark the launch of preparatory works for construction of a 55 km regional express railway, which is intended to link the city centre with a new airport.

Among the guests at the ceremony were Senegalese President Macky Sall and representatives of railway systems contractors Engie and Thales. The 1 435 mm gauge line is to be built in phases; an initial 36 km will link a station in central Dakar with the new town of Diamniadio. A second phase of 19 km would extend the route to the Blaise Diagne airport now being developed at Diass. The completed line would have 14 intermediate stations and the fastest end-to-end journeys will take 45 min.

Alstom has been awarded a contract by government-owned development agency APIX to supply 15 Coradia Polyvalent electro-diesel trainsets. These four-car trains will carry up to 400 passengers in first and second class saloons; they will have a maximum speed of 160 km/h. Alstom will produce the fleet at its Reichshoffen plant in France; components will also come from factories at Le Creusot (bogies), Ornans (traction equipment) and Villeurbanne (information systems). The design is to be adapted for local conditions, including provision of a high-performance air conditioning unit.

Engie Ineo and Thales 'will work jointly on designing and implementing the technical systems', including signalling and train control, power supplies, telecommunications and ticketing.

The Dakar - Diamniadio section of the railway is expected to open for traffic by the end of 2018.