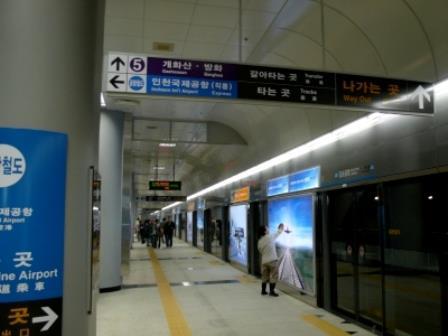 SOUTH KOREA: Phase II of the A'REX airport rail link was inaugurated on December 28 by Prime Minister Kim Hwang-Sik, marking the completion of a 10-year privately-financed project to build a 61 km line between Incheon International Airport and Seoul. Revenue services started the next day.

The 20·7 km extension runs from Gimpo Airport to Seoul Station, with three intermediate stops at Digital Media City, Hongik University and Gongdeok providing interchange to metro lines 6, 2 and 5 and KR's Gyeongui Line.

Construction of the 4·2 trillion won project started in 2001 and the 40·3 km first phase with six stations linking Incheon International Airport and Gimpo Airport opened on March 23 2007.

Although designed for eight-car trains, the route is currently worked by six-car Rotem EMUs. The 24 trainsets are configured in two designs to suit express and commuter operations. Express trains run every 30 min between 05.00 and 22.00 and take 43 min to complete the non-stop journey. Commuter trains depart every 6 min between 05.00 and midnight and stop at all 10 stations, taking 10 min longer. The express service fare is 13 300 while the stopping service is priced at 3 700 won.

According to the Ministry of Land, Transport & Maritime Affairs, KTX trains will be use the A'REX route by the end of 2012, providing passengers with a high speed through service from Busan to Incheon International Airport. KTX trains will be able to run at 180 km/h on the airport line.