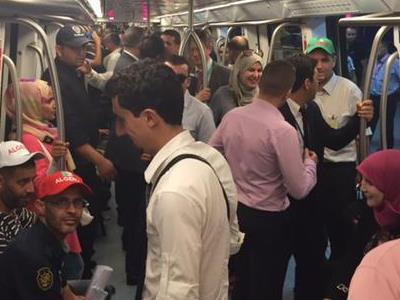 ALGERIA: On July 4 Prime Minister Abdelmalek Sellal and RATP Group President & Chief Executive Elisabeth Borne inaugurated the first extension of the Alger metro since the line opened in 2011.
The 4 km eastern extension from Haï El Badr to El Harrach Centre has three stations, with a further intermediate station at El Harrach Gare to open in the future. The extension was built by a consortium of Colas Rail and KOU.G.C under an €85m contract awarded in 2012.
Two further extensions are under construction: a branch from Haï El Badr to Ain Naadja with three stations, and a northern extension from Tafourah Grande Poste to Place des Martyrs with an intermediate station at Emir Abdelkadar. Both are due to be completed in 2017. In the longer term, an extension east from El Harrach Centre to Houari Boumediene Airport is scheduled to open in 2020.
The metro is operated by RATP Dev subsidiary RATP El Djazaïr using a fleet of 14 six-car air-conditioned trainsets. The operator reports that 16 million passengers were carried in 2014, an 8% increase from 2013.