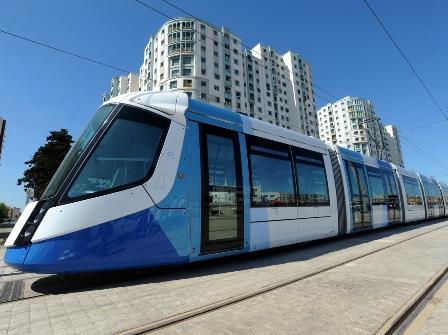 ALGERIA: Transport Minister Amar Tou and the President of Entreprise du Métro d'Alger, Aomar Hadbi, launched revenue services on a 7·2 km section of the city's first tram route between Bab Ezzouar and Bordj El Kiffan on May 8.

The tram line is being built as a turnkey project by the Méditerrail consortium of Alstom, ETRHB and Todini, under a contract awarded by EMA in 2006. The initial stretch, which has 13 stops, was handed over by Méditerrail to EMA for commissioning in December last year.

The route is operated by ETUSA (Etablissement de transport urbain et suburbain d'Alger). Services run between 06.00 and 21.00, worked by 12 Alstom Citadis low-floor trams, and are expected to carry up to 15 000 passengers/day.

Once the remaining two sections — between Hussein Dey and Bab Ezzouar and from Bordj El Kiffan to Derana — are completed, the route will be 23 km long with 38 stops. Estimated project cost is 35bn dinars.

Alstom has supplied a fleet of 41 vehicles, each 40 m long with capacity for up to 400 passengers. The trams are fitted with air conditioning, tinted windows and passenger information in French and Arabic. Alstom will maintain the line's E&M equipment and rolling stock for 10 years.

To support its projects in Algeria — Alstom also has contracts to build tram lines in Oran and Constantine — Alstom has created the CITAL joint venture with EMA and Ferrovial to build and maintain trams at a new facility in the northeastern city of Annaba. Assembly work is due to start at the plant in 2013.

* Speaking at the opening, Tou said Alger's first metro line would enter service on October 31. Civil works and fit-out were completed in mid-2009.