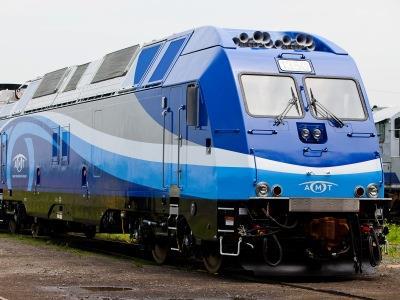 CANADA: Montréal commuter rail authority Agence Métropolitaine de Transport took delivery of its first Bombardier-built ALP-45 electro-diesel locomotives on June 9. The first of 20 locos was officially received by AMT President & CEO Joël Gauthier and the Vice-President of Business Development & Communications for Bombardier Transportation North America Ann MacDonald.
Built at Kassel in Germany, the locomotive was shipped from Hamburg to Newark, New Jersey, and moved to Montréal under its own power; it will be commissiond at AMT's Saint-Eustache depot where the Deux-Montagnes commuter EMUs are maintained. The remaining locos are to be delivered at the rate of one a month, allowing AMT to expand services on its five existing lines and open the Train de l'Est route now under development.
'The acquisition of these all-new locomotives will open the door for some clear improvements throughout greater Montréal's commuter train network', said Gauthier. 'Combined with the deployment of 160 double-decker passenger cars, these locomotives will increase the rush-hour capacity of AMT commuter trains by 70%' accommodating up to 43 000 additional trips per day.
The dual-mode locomotives were ordered in August 2008, following a request for proposals issued jointly with New Jersey Transit, which is buying 26 ALP-45s. AMT's C$236·3m order includes an option for a further 10. Its investment is being 75% financed by the Ministère des Transports du Québec.
AMT says the fleet expansion was 'imperative', as commuter rail ridership had more than doubled in the 14 years since the authority took charge of the services. Gauthier confirmed that 'electrifying the entire AMT network is now a distinct possibility', adding that the results of a feasibility study being undertaken by AMT and local electricity supplier Hydro-Québec 'are expected very soon'.