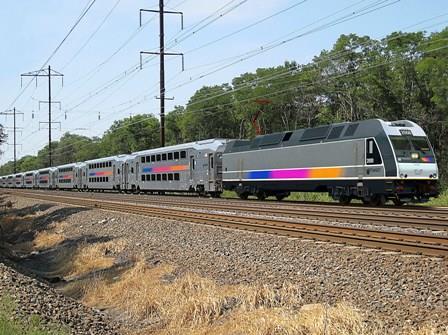 USA: May 11 saw the unveiling at Newark Penn Station of the first of 26 ALP-45 electro-diesel locomotives ordered by New Jersey Transit nearly three years ago from Bombardier.

The dual-mode locos were originally intended to optimise service through the new trans-Hudson tunnels between northern New Jersey and Manhattan then being planned by NJT. Passengers on the non-electrified Pascack Valley, Main and Bergen lines would have been able to reach New York without changing trains. But last autumn New Jersey Governor Chris Christie cancelled the new tunnels, part of the Access to the Region's Core project.

However NJT's ALP-45s can still be used on the Morris-Essex, Main and North Jersey Coast lines, providing more flexibility and allowing more passengers a one-seat ride to Manhattan Penn Station; about 40% of the NJT system is not electrified.

'These new locomotives will have the benefit of being quieter, more fuel-efficient and more environmentally-friendly than the locomotives they'll replace, some of which are 40 years old', said NJT Executive Director James Weinstein at the Newark ceremony.

In diesel mode the new engines comply with the latest federal Tier 3 emissions requirements and incorporate a number of energy-saving features along with faster acceleration. The AC propulsion locos will cost around $310m, with delivery due to be completed by late 2012. Montréal suburban operator AMT has ordered 20 units costing $223m, with an option for 10 more.

* On May 11 NJT approved the route for a 1·1 km elevated extension of the Hudson-Bergen light rail line from West Side Avenue across Route 440 to a redevelopment zone along the Hackensack Riverfront.