Digitalisation was the key topic of the SITCE conference in Singapore, held for the first time as part of the World Cities Summit.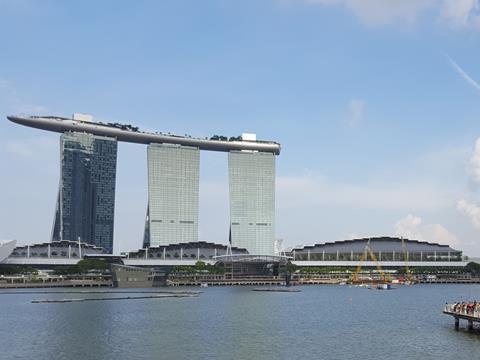 Singapore is 'a champion of public transport and a model for metro networks', according to UITP President Pere Calvet, while World Bank CEO Kristalina Georgieva lauds it as 'a good example of the ways in which people can solve the problems facing large cities'. The two speakers were not the only ones praising the host city of the World Cities Summit, which took place in early July.
For the first time, the event incorporated UITP and Land Transport Authority's Singapore International Transport Congress & Exhibition. The theme of SITCE was 'people at the heart of digital railways', and while the event was based around UITP's Rail Conference, there was much talk of other forms of mobility. A total of 630 delegates attended, alongside some 50 exhibitors.
The integration of SITCE into WCS is logical, given the central role that transport plays in cities. In the WCS opening plenary Georgieva said public transport is 'absolutely essential' if cities are to be green and accessible. Cities produce 60% to 80% of all carbon dioxide emissions, leading Georgieva to warn that 'if cities do not change, we are doomed!' Accessibility is crucial too: growing urban populations need to access the jobs that cities create.
Half the world's population is already urban, and the UN forecasts that this share could rise to as much as 90% by 2050. Singapore's Deputy Prime Minister Tharman Shanmugaratnam picked out poorly planned urbanisation, climate change and growing young populations as among the biggest challenges faced by cities today. Similar thoughts were expressed throughout the conference: Mastercard's Gerald Sun, for instance, said that global megatrends are responsible for many cities' common problems, which cannot be solved simply through spending money.
The need for sustainable urban development was stressed by China's Vice Minister of Ecology & Environment Zhuang Guotai. The country has overhauled its environmental laws in response to worsening pollution, and these measures are having an effect. Zhuang said that Beijing residents were initially opposed to restrictions on private cars entering the city — until they saw the consequent reduction in air pollution.
Andhra Pradesh Chief Minister Chandrababu Naidu wants to go even further and make the city of Amaravati carbon-neutral. To achieve this, he envisages only zero-emission vehicles operating in the city.
Naidu sounded an optimistic note about technology shaping the future of cities. Digital technologies such as the internet of things enable people to do what they want in real time. But while this is 'an inspiring time', we need to be careful, he said, as 'misuse of technology can make things miserable for everyone.'
Not just a buzzword
'Digital' covers a range of applications. Graham Currie of the Public Transport Research Group at Monash University underlined that in the context of passenger rail, 'digital' means different things across countries. The point of commonality is the outcome of improving operations and the passenger experience. But not all innovations are good — some do not work and others take a long time to develop.
Michael Lichtenegger of Upstream – Next Level Mobility summed up the task facing urban rail: to solve individual and sustainable mobility needs, rather than solely selling tickets. He emphasised that the changes taking place in transport resulted from many factors: population growth, urbanisation, decarbonisation, the development of a sharing industry, connectivity, increasing automation and digitalisation.
The last of these was a prominent theme throughout the conference. 'Digitalisation is clearly a buzzword, but we understand that there is more behind it', said UITP Secretary General Mohamed Mezghani. 'It is already bringing huge changes to the sector and this is only the beginning.'
German national railway Deutsche Bahn offered examples of these changes. Chief Digital Officer Stefan Stroh called digitalisation one of DB's key strategic pillars, adding that digital technologies would change the way DB interacts with passengers. DB is developing the Quixxit app and Ioki mobility-as-a-service platform, and is undertaking no fewer than 93 blockchain experiments.
Stroh predicted that mobility would be transformed much in the same way as news media, music and retail have been. As in other industries, 'people have to work differently in the future than they do today', and DB would have to become more agile. Stroh contrasted the traditional attitude of 'plan, build, run' with the more urgent 'get shit done'.
Marc Badoux of Transports Lausannois echoed the point that rail and metro operators are far from being agile organisations, but added that there were good reasons for this. Nevertheless, the public transport industry, which is slow to innovate, needs to find a way to keep its culture and maintain safety in a more creative way, or other modes will outflank it.
Mezghani picked up on the cultural shift that digital technologies bring, saying that it would be a mistake to focus only on the tools for digitalisation. Public transport needed to change its whole culture to appeal to so-called digital natives. At the same time, digitalisation is changing the profile of people that the industry needs, he warned. Public transport is now competing with many other sectors, like banking, to hire data analysts and cybersecurity experts.
Automated metros exemplify a well-established application of digital technology, and in this area too there was discussion of what the future might bring. Ahmed Miske El Hadrami of signalling supplier Thales drew a distinction between automation and autonomy. The former is simply following a predefined algorithm; the latter involves environmental awareness and the ability to make decisions. Automated metro trains are quite common, autonomous trains do not yet exist.
Operators of automated metros added their own views. Philippe Leguay of Keolis expressed his belief that artificial intelligence should not replace all human intervention in train operation. RATP Dev's Olivier Badard underscored that converting a metro line to driverless operation, as has happened in Paris, need not mean that drivers lose their jobs. They receive training and move up in the value chain — in Paris many now work in the operations control centre. TL's Badoux summed it up nicely when he talked of 'using the hands that automation frees to enhance the passenger experience'.
Improving the passenger experience
Several speakers stressed the potential of digital technologies to improve the customer experience. Patrique Campal-Lindahl of Transdev defined this as the sum total of how a passenger interacts with a brand, not just during the journey.
Yukiko Kimishima of JR East noted that passengers expect a higher level of service in the digital age. Singapore metro operator SMRT set up a Commuter Engagement Office in February with the mandate of 'making commuting more joyful and inclusive', explained Chief Commuter Engagement Officer Elaine Koh. The office aims to combine traditional customer experience management with 'digital thinking'.
Annie Leung of MTR identified three challenges: evolving customer demands (caused by factors such as population ageing); digitalisation, which brings a higher expectation of mobile services; and industry transformation. To address these, she said, MTR not only offers an app and chatbot, but works with journey planning app CityMapper during times of disruption. The MTR app sends out links to CityMapper so that passengers can replan their journey.
The importance of partnerships
The co-operation between MTR and CityMapper illustrates another recurrent theme: the importance of partnerships. DB's Stroh threw this into focus when he said that DB 'cannot survive in the digital environment alone'.
Lichtenegger outlined why this was the case. Public transport is well suited to large, densely populated areas, but less so to areas and times of lower demand, where the car is still the preferred mode. His vision of the future includes cars, albeit far fewer than are on the roads today. Instead, he sees shared zero-emission cars, used selectively, but for this to happen the mobility sphere needs new players.
RATP Dev's Badard was enthusiastic about the prospect. 'We embrace the opportunity to see new mobility players come into the public transport ecosystem', he said, adding that there is a need to harness the innovation that these players bring, particularly in first and last mile connections. 'Working with them can only make public transport better, more agile, more customer-centric', he asserted. 'It is good for the industry and a must for operators.'
This view was echoed by KK Saberwal of Delhi Metro Rail Corp, who did not see new mobility companies as competitors but as complements to the metro. Each mode has its strengths: the metro offers the fastest journeys, but other modes like e-rickshaws can fill the first and last mile gap.
Arnd Bätzner of Mobility CarSharing Cooperative spent much time arguing why mass transit modes cannot be replaced by private cars, autonomous or otherwise. The bottom line is not emissions but capacity, he believed; too many cars would be required to match the capacity of a tram or rail line. Any transport mode must be aligned with the needs of the city.
While many speakers were in agreement on the role of partnerships, a tension was recognised when it comes to data, which drives many digital innovations. Lichtenegger argued that data generated by passengers should be used by public organisations and not private companies. Not only were people more likely to share their data with public organisations, but such data ought to be used for public services.
'If data is like gold dust, we need to stop it from becoming fool's gold', quipped Kuldeep Gharatya of Transport for London. He warned against using technology for technology's sake, making the case for embedding it into an operational and maintenance paradigm. 'Any monkey can spot patterns in data', he said, adding that contextual knowledge of the system and of operations makes these insights useful.
Away from the SITCE sessions, World Cities Summit speakers also had data on their minds. 'In the past, the goal was to get data', said Gerald Sun of Mastercard, 'now the goal is to squeeze out insights from that data'.
Bringing digitalisation to life
It is often difficult to see digital innovations in practice as a passenger. But conference delegates who took part in the technical visit to the Tuas West metro depot were treated to a cornucopia of innovation. No fewer than 10 exhibits showcased the technologies being tested in this environment.
The most eye-catching were the robots. Japanese company Doog International demonstrated a 'follow-me' robot nicknamed Thouzer. This can be programmed to follow a person or another robot, and also has an automatic line-tracing mode. The technology is already in use elsewhere: 32 such robots work in Singapore, mostly in warehouses, in addition to 13 at Changi Airport and two in Tampines Regional Library.
Local firm ST Engineering displayed an autonomous robotic mover. Used in hospitals and on factory assembly lines, this battery-powered robot is equipped with LIDAR sensors and controlled via a wi-fi router. JCS and SIMTech, meanwhile, have developed an autonomous robot to clean train interiors, also equipped with LIDAR.
China's Baichuan has been testing a proof-of-concept track-mounted automatic vehicle inspection system. This uses lasers and cameras to monitor shoegear, axles and gearboxes as a train passes over it. ST Engineering is developing a cold spray technique for rail repair, particularly for insulated rail joints. The method is already well-established in aerospace, and ST has been using it to repair military vehicles.
Singapore Polytechnic showed a self-learning mobile application that allows workers to use interactive training manuals. In a similar vein, ST Engineering has developed a 'mixed reality' interface for training. This is similar to its augmented reality application for train inspection, which was also on show. Delegates saw two pieces of ST's software for depot management: an integrated maintenance and diagnostics centre, and a depot facility management display.
Seeing physical manifestations of digital technology brought a satisfying end to an intriguing glimpse into the future of public transport and mobility.