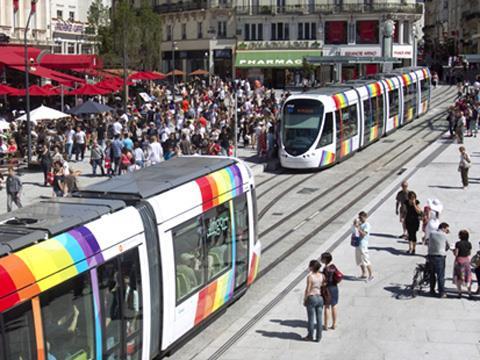 FRANCE: Mayor of Angers Jean-Claude Antonini formally opened the city's light rail line on June 25, presiding over ceremonies in the Place du Ralliement before passengers boarded the first cars shortly after 13.00.
Festivities continued throughout the day and into the night along the 12 km Line A from Avrillé to Roseraie, despite demonstrations by drivers employed by the network's operator, Keolis.
In his opening speech, Antonini stressed the employment benefits of the new line, which had created 1 000 jobs during the construction phase. New jobs had also been created at Keolis, he noted.
Services on Line A and the restructured bus network are free until July 3. Running from Avrillé-Ardenne in the north to Angers-Roseraie in the south via the city centre, the route serves a total of 25 stops and is operated with 17 Alstom Citadis 302 trams, equipped with the APS ground-level current collection system which has been installed on two sections of the route totalling 1·5 km.