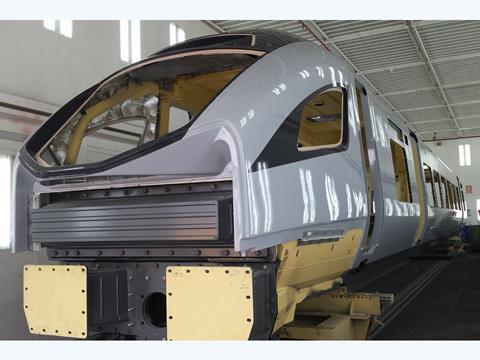 UK: The first Civity EMUs in inter-city configuration for the UK market are under construction at CAF's plant in Beasain in Spain. The 12 five-car trainsets are scheduled to enter service with TransPennine Express in spring 2019, the operator says.
Capable of operating at up to 200 km/h, the 25 kV 50 Hz Civity trainsets would replace TPE's existing fleet of Siemens Desiro EMUs on its northwest routes linking Manchester and Liverpool with Glasgow and Edinburgh via the West Coast Main Line. No tilt equipment is to be fitted. Procurement is being funded through leasing company Eversholt Rail.

The Civity fleet is one of three new designs being introduced by TPE on routes across northern England by 2020, alongside 13 push-pull hauled trainsets also being supplied by CAF and 32 bi-mode AT300 trainsets from Hitachi Rail Europe. Incorporating a refurbishment programme covering around half of its existing fleet of Siemens Desiro DMUs, TPE says its fleet renewal programme is worth around £500m.

Onboard features of the Civity include enhanced seating, plugs and USB points, more luggage space, free wi-fi and an entertainment portal for streaming audio and video content from an onboard server. Real-time seat reservation data and enhanced catering facilities are also to be provided.

'CAF is delighted to be working with TPE to enhance their customers' experience and the opportunity to provide technologically advanced trains for their inter-city services', commented José María Muguruza, Project Manager.