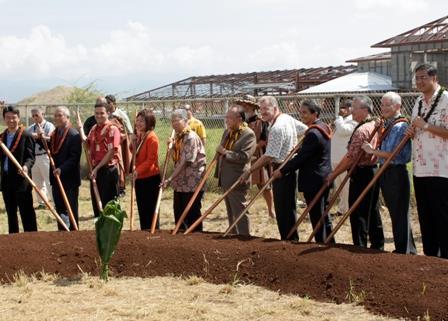 USA: The award of two major contracts totalling $946m covering construction and fitting out of the elevated metro line in Honolulu was announced by the city's mayor Peter Carlisle on March 21.
The Ansaldo Honolulu Joint Venture, bringing together Finnmeccanica companies Ansaldo STS and AnsaldoBreda, has been selected as core systems contractor, under a design and build contract valued at $574m. The Ansaldo STS portion of the deal, including power supplies, signalling and the operations control centre, is valued at $367m. AnsaldoBreda will supply the rolling stock, with an initial order for 80 vehicles worth $207m. Ansaldo will also operate and maintain the line once it has been completed.
Awarded to Kiewit Infrastructure West, at a total cost of $372m, the Kamehameha Highway Guideway design and build contract covers construction of the 6·3 km second phase of the elevated route between Pearl City and Aloha Stadium. Kiewit had already been awarded the contract to build the 10·5 km first phase of the metro viaduct, running from East Kapolei to Pearl City, and is building the train maintenance and stabling depot at Waipahu in a joint venture with Kobayashi of Japan. Groundbreaking ceremonies for the first phase were held on February 22.

According to the city government, the latest contracts offer a net saving of $165m from the estimated project cost. 'Not only are we creating much-needed jobs with these and other rail contracts, but we are also saving taxpayers' money by making the most of the competitive bids coming in for the project', said Carlisle. The city says it has saved more than $300m on the four construction contracts awarded to date, which total around $1·6bn.
The city expects to award the design contract for the third section between Aloha Stadium and Honolulu Airport later this year. The final two phases of the rail alignment from Honolulu Airport to Ala Moana Center will be awarded through a design-bid-build process, and the stations will be designed and constructed under separate contracts.
The $5·5bn Honolulu Rail Transit project covers the construction of a 32 km elevated metro linking East Kapolei with Ala Moana Center, with 21 stations serving Waipahu, Pearl City, Aiea, Kalihi, Chinatown, Downtown and Kakaako. The first section between East Kapolei and Aloha Stadium is expected to open for revenue service in 2015, with the remainder to be completed by 2019.