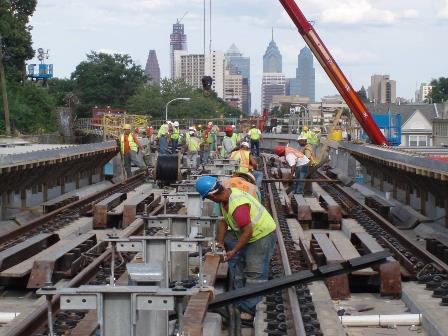 USA: More than two-thirds of the federal stimulus funding allocated to improve rail infrastructure in Philadelphia had been spent by early November, according to SEPTA Chief Engineer Jeffrey Knueppel. The American Recovery and Reinvestment Act has provided the Southeastern Pennsylvania Transportation Authority with $191m for badly-needed infrastructure upgrades and repairs.

Knueppel said on November 8 that SEPTA had spent $130m and substantially completed 29 of the 54 contracts awarded for 32 projects. The list includes depot, traction power, signalling and bridge refurbishment; rebuilt tram lines; and renovated subway and regional railway stations.

Around 14·5 km of continuously welded rail has been installed on the former Red Arrow suburban light rail lines, Route 101 to Media and Route 102 to Sharon Hill, along with 11 000 sleepers, 22·5 km of new catenary; 40 stations and 29 Kawasaki cars, now 30 years old, have been repainted. The urban tram network's electrical equipment has been improved by dividing it into isolated sections, preventing a total shutdown if a power failure occurs on one part of the network.

The final stimulus task will be the $30·6m modernisation of Spring Garden and Girard stations on the Broad Street subway, due to be completed by December 2011. But, according to Knueppel, there is still a $500m backlog of work waiting for further funding.

Read about SEPTA's renovation of the Market-Frankford Line in the December issue of Metro Report International.