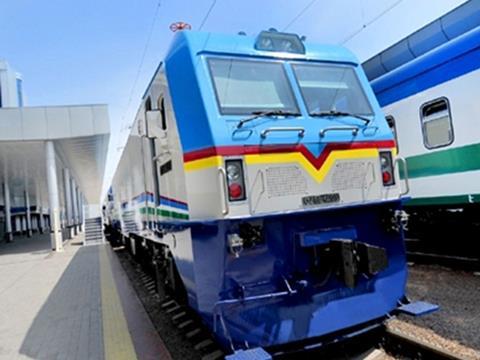 UZBEKISTAN: The Asian Development Bank has approved a US$170m loan to support the US$218m procurement of 24 'state-of-the-art' electric locomotives by national railway UTY, along with the modernisation of a depot in Toshkent.
ADB said the eight passenger and 16 freight locomotives to be acquired under a modernisation programme running to June 2025 would help enhance the performance of the rail network.
'Having a cleaner, more efficient, and reliable transport network, in the form of electrified railways, will help boost Uzbekistan's growth and maximise the country's potential as a transport hub at the heart of Central Asia', said ADB Senior Transport Specialist for Central & West Asia Ko Sakamoto on May 21.
ADB said the 4 669 km rail network carries about 40% of total freight volume in the country, and about 4% of the total land passenger volume. Around 2 350 km of the network is currently electrified.
'Transport and connectivity are crucial for the growth and development of a double landlocked country like Uzbekistan, and remains a high priority for our support', said ADB Country Director Cindy Malvicini.