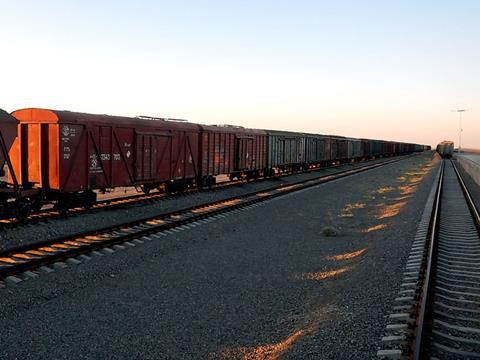 AFGHANISTAN: A memorandum of understanding for the development of the freight terminal at Aqina on the Afghan-Turkmenistan border, including the construction of 10 track-km of main line and sidings, was signed by the Afghanistan Railway Authority and Turkmenistan's Ministry of Railways in Ashgabat on November 2.
The MoU has six articles, under which the countries have agreed to enhance co-operation to develop trade, transit traffic and economic relations.
The railway running approximately 90 km between Kerki (until last year known as Atamyrat) in Turkmenistan and the border facilities at Ymamnazar in Turkmenistan and Aqina in Afghanistan was built and funded by Turkmenistan, with construction being launched by the presidents of Turkmenistan, Afghanistan and Tajikistan in June 2013. It was opened with a ceremony in November 2016.
In spring 2017 Afghanistan's cabinet approved the construction of the additional 10 km of track at the terminal. There are also proposals to extend the line around 35 km to Andkhoy, the first significant town in Afghanistan.
Last year Turkmenistan funded work to upgrade the older Soviet-built cross-border link between Serhetabat and the freight terminal at Towraghondi in Afghanistan.