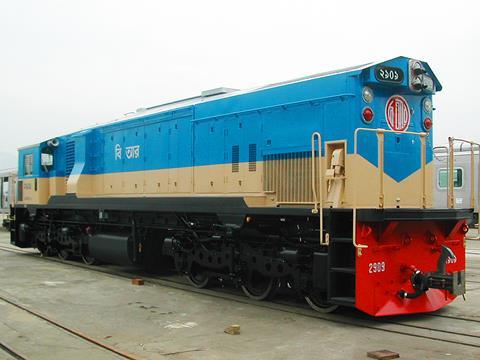 BANGLADESH: Hyundai Rotem has been awarded a contract to supply a further 20 diesel–electric locomotives to Bangladesh Railway.
The US$80m order signed on February 20 is being supported by the Export-Import Bank of Korea. The 100 km/h metre-gauge mixed-traffic locomotives with air-conditioned cabs are to be produced at Changwon in South Korea for delivery from 2021.
The latest order follows on from a 41bn won contract for 10 locomotives which was signed last May, and a US$239m order for a further 70 locos agreed in October 2018.
Hyundai Rotem supplied 39 locomotives of Class 2900 to BR in four builds between 1999 and 2013. Built under licence from EMD, these are based on the 16-strong Type GT18L-2 locos built by General Motors Canada in 1988 as Class 2600.
In January this year BR awarded EMD's current owner Progress Rail a US$135m contract to supply 40 diesel locomotives from the USA for use on its 1 676 mm gauge routes.