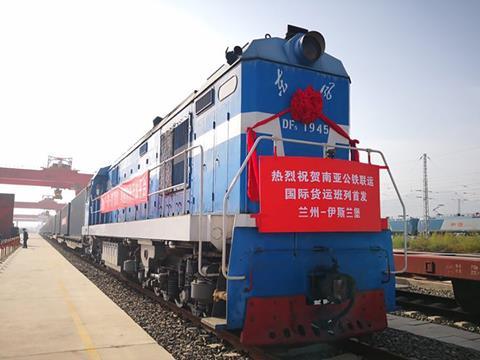 ASIA: Kerry Logistics Network has launched a rail and road multimodal freight service between Lanzhou in China and Islamabad in Pakistan, operated by its member company Lanzhou Pacific Logistics Corp.
A block train carrying mechanical equipment, car parts, commodities and snow melting agent left Lanzhou on October 23 and travelled 3 300 km to the Kashgar bonded zone in Xinjiang where the goods were transferred to lorries for the 1 200 km to Islamabad. The journey time was 13 days, 15 days faster by sea and road.
A regular service is planned for 2019.
'As we continue to expand our capabilities and implement our development blueprint of capturing the opportunities along the Belt & Road trade route, we are thrilled to launch this new service that offers a significant time saving', said Edwardo Erni, Managing Director, China & North Asia at Kerry Logistics. 'Following the establishment of a new subsidiary in Pakistan in July 2018, this new service will help to better equip us to capitalise on the increasing trade activities between China and Pakistan facilitated by the China-Pakistan Economic Corridor'.