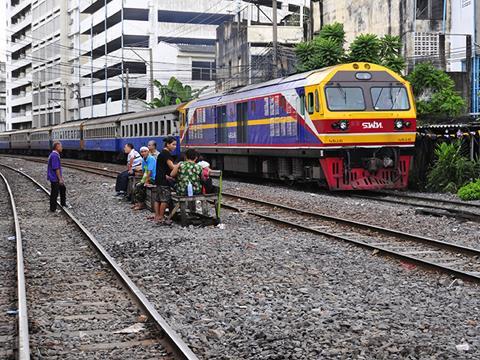 THAILAND: The National Legislative Assembly voted on December 4 by a majority of 187 in favour of approving a memorandum of understanding between the Thai and Chinese governments over the construction of a north-south standard gauge main line corridor.
According to the 2015-22 Thai infrastructure development plan, the corridor would comprise a 734 km spine from Nong Khai in the north to the port of Map Ta Phut near Rayong in the south, with a 133 km spur linking Kaeng Khoi with central Bangkok. Funding for the railway would be covered by a bi-lateral agreement between the two governments.
Successive Thai administrations have had ambitions to build up to four 1 435 mm gauge lines for use both by fast passenger services and freight. Chinese officials have been supportive, seeing the plans as a means to overcome the break of gauge issues which have stymied development of an effective trans-ASEAN rail corridor from Kunming, a railway hub for southwestern China.
An agreement between the governments of Laos and China envisages construction of a line across the landlocked country to link Nong Khai with the Chinese network, although this has been repeatedly delayed by disagreements over the detail of the funding arrangements.
Thai Transport Minister Prajin Juntong said that the proposal has been put before the legislature as a means to demonstrate its 'transparency', adding that he hoped the railway would 'set a new standard in domestic transportation'.