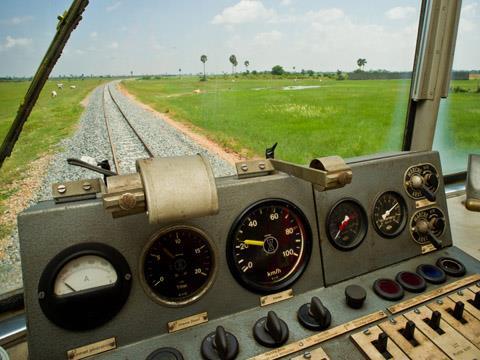 CAMBODIA: Work is expected to begin in September on initial repairs to the Northern line which links the capital Phnom Penh with Sisophon, 40 km from the border with Thailand.
The government has agreed to provide US$33m to support what it terms 'emergency repairs' on the 386 km metre gauge route, marking the latest step in a piecemeal effort to rehabilitate Cambodia's national network.
Trains have been running since 2013 over the 264 km Southern line from Phnom Penh to the port of Sihanoukville after the line was refurbished under a programme led by the Asian Development Bank and Australian development agency AusAID. Australian logistics firm Toll Group took on a 30-year concession to operate and manage the railway, but divested its stake to local partner the Royal Group last year citing a lack of progress in modernising the railway infrastructure.
According to local reports, the government has already spent around US$2m on renewing signalling and telecoms on the Northern line, and it has held discussion with Chinese and Japanese investors about increasing the amount of funding for enhancements. The current funding is likely to cover just the replacement of wooden sleepers with concrete, with low operating speeds and axleloads of less than 20 tonnes, Deputy Director of the Railway Ministry Chreung Sok-Tharath told the Khmer Times.
Nevertheless, the government hopes that by the end of 2017 the Northern route will be operational as far as Sisophon, from where a further 48 km of new alignment is required to reach the State Railway of Thailand network at Aranyaphrathet. A ceremony to mark the start of construction of this missing link was held at the Cambodian border town of Poipet in July last year.