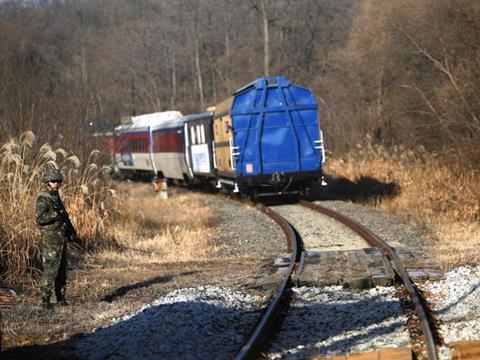 ASIA: The first train in a decade to cross the border between the two Koreas passed through the Demilitarised Zone on November 30 as negotiations begin to restore international rail traffic between the two countries.
Staffed by 28 South Korean specialists, the test train is due to spend 18 days surveying the condition of the infrastructure on the North Korean network. It is expected to cover more than 1 200 km; the staff will sleep onboard.
North Korean leader Kim Jong Un has asked for help with the modernisation of the North Korean network, admitting that in places the railways are in an 'embarrassing' condition.
The survey train had been expected to start running earlier this year, but the plan was initially blocked by the US-led United Nations Special Command. It could pave the way for South Korea to introduce international rail traffic.
Speaking to Railway Gazette in Seoul, Korail Vice President for Passenger Transport Hyungik Cho said the South Korean national operator 'would like to run international trains from Busan in the south to European and Asian destinations, and there are negotiations going on for this between the two Koreas'.