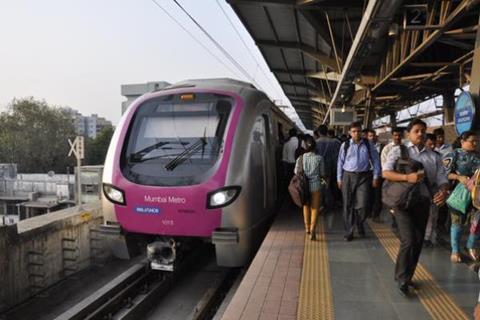 INDIA: The government has made private-sector participation a mandatory requirement for metro projects that are to receive a national funding contribution.
A new metro policy approved on August 16 'seeks to enable realisation of growing metro rail aspirations of a large number of cities but in a responsible manner', according to the government, which says that projects could benefit from private-sector 'resources, expertise and entrepreneurship'. Private-sector participation could be utilised for the entire project or for elements such as automatic fare collection or operations and maintenance.
National funding for metro projects comes in three versions: a PPP with a contribution under the Ministry of Finance's Viability Gap Funding; a government grant covering 10% of the project cost; or a 50:50 equity sharing model between the central and state governments.
Metro projects would only receive approval if they have an economic internal rate of return of 14%, rather than a current financial internal rate of return of 8% as has been the case until now. The new policy also mandates the evaluation of other transport modes and proposes an independent third-party assessment.
The government notes that metro projects should be seen not just as transport but rather as urban transformation. As such, the policy requires transport authorities to prepare comprehensive mobility plans for cities, including multimodal integration and transit-oriented development.
Project reports must include last-mile connectivity for 5 km catchment areas around stations. This can include non-motorised transport infrastructure such as walkways and cycle paths, as well as feeder services or paratransit.
TOD must also feature in project reports, as part of non-fare revenue generation. States must adopt 'innovative' financing mechanisms such as value capture financing tools and betterment levies to take advantage of increased land values around stations. Low-cost debt capital must also be sought through corporate bond issuance.