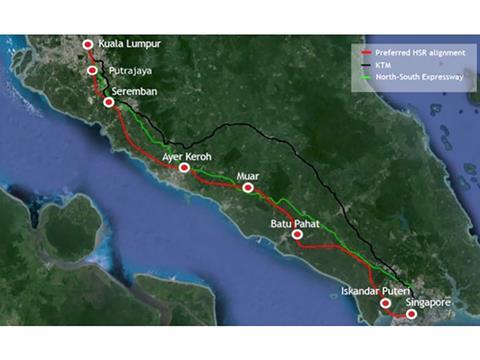 MALAYSIA: Promoter MyHSR Corp has selected a mix of international and domestic firms to work as Reference Design Consultants on the Kuala Lumpur – Singapore high speed line project, the company announced on April 3.
The consultants will be responsible for preparing the reference designs for the infrastructure alignment and civil works, including bridges and tunnels, plus the international stations at Bandar Malaysia and Iskandar Puteri and the five domestic stations at Putrajaya, Seremban, Melaka, Muar and Batu Pahat.
The 335 km route from Bandar Malaysia station on the outskirts of Kuala Lumpur to the international border between Malaysia and Singapore has been divided into six work packages. These have been awarded to Systra, Jacobs Engineering Services, Ranhill Consulting, HSS Integrated, and AECOM Perunding.
The competitive international tender process which began in August 2016 generated strong interest from the market, according to MyHSR, attracting participation from a range of local and international engineering consultancies.
MyHSR CEO Mohd Nur Ismal Mohamed Kamal said award of the RDC contracts was 'another step forward as we enter into the next phase of shaping the project. The appointed consultants carry the responsibility of designing what the stations will look like and finalising the civil infrastructure.' By dividing the work, MyHSR had been able to attract 'specialist consultants for the specific works to be completed'. Kamal said the winning consultants were 'very reputable and experienced'.
On December 13 last year the two governments signed a bilateral agreement which 'captured the key points' of the high speed line project, including the technical parameters, commercial model, customs, immigration and quarantine clearance, safety and security matters, the regulatory framework and the project management approach.
MyHSR and Singapore's Land Transport Authority have been tasked with leading the implementation of the high speed line project. In February a consortium of WSP Engineering Malaysia, Mott MacDonald Malaysia and Ernst & Young Advisory Services was selected as joint development partner.