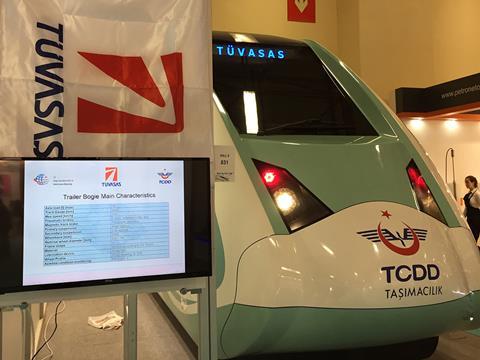 TURKEY: State-owned passenger train manufacturer Tüvasaş expects to begin construction of the first of 21 five-car electric multiple-units under the National Train programme 'within the next two months'. The first trains should be handed to operator TCDD Tasımacılık before the end of the year, the company told Railway Gazette at the Eurasiarail trade show in Izmir on April 12.
Tüvasaş has already taken delivery of aluminium extrusions for assembly of the bodyshells at its new factory in Sakarya province. On April 16 it opened procurement for the supply of roof panels and aluminium fittings.
TCDD Tasimcilik has ordered 20 production trainsets in addition to a pre-series train; the 160 km/h EMUs will have a seating capacity of 322. Further batches totalling 76 trainsets in seven and eight-car formations are expected to be ordered later this year, although there are reports that wider economic constraints may see this delayed.
The five-car sets already ordered will be formed of three standard class cars, a premium saloon with 2+1 seating and a buffet car. One of standard class cars will be equipped for passengers with reduced mobility.
The National Train programme is one of several industrial projects being promoted by President Recep Tayyip Erdogan. It is intended to reduce Turkey's reliance on imported technology and showcase local manufacturers, several of which already supply components to international rolling stock manufacturers. Suppliers involved include Tülomsaş (traction equipment), Bozankaya (bogies) and Aselsan (traction convertors and train control systems).