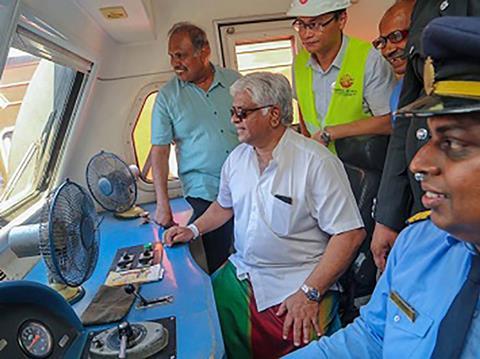 SRI LANKA: The 26·8 km Matara – Beliatta first phase of the Southern Railway project was officially opened by Minister of Transport & Civil Aviation Arjuna Ranatunga on April 8.
The US$278m cost of Phase 1 was financed through a 20-year loan agreed by Export-Import Bank of China and the ministry in 2012. Construction was undertaken through a design and build contract, with China National Machinery Import & Export Corp as general contractor and design subcontracted to a consortium of Parsons Brinckerhoff and China Railway Fifth Survey & Design Institute. A groundbreaking ceremony was held in 2013.
The 1 676 mm gauge single-track alignment is designed for diesel trains operating at speeds up to 120 km/h. There are seven passenger trains each way per day, serving major stations at Kakanadura, Bambarakanda, Wawurukannala and halts at Piladuwa and Weherahena.
Almost 10% of the line is elevated on 12 bridges, with the route including the two longest railway bridges in Sri Lanka at 1·5 km and 1·04 km, as well as a 615 m tunnel at Kekanadura which is also the longest in the country. There are 18 level crossings and 49 culverts.
In 2014 China National Machinery Import & Export Corp was awarded a US$600m contract for construction of the 48 km second phase from Beliatta to Hambantota, serving a Chinese-owned port development, and the 39 km third phase to Kataragama. Speaking at the opening of Phase 1, Ranatunga said work would begin soon.
An in-depth article on the modernisation of Sri Lanka's railway network appeared in the August 2018 issue of Railway Gazette International magazine, which subscribers can access in the digital archive.