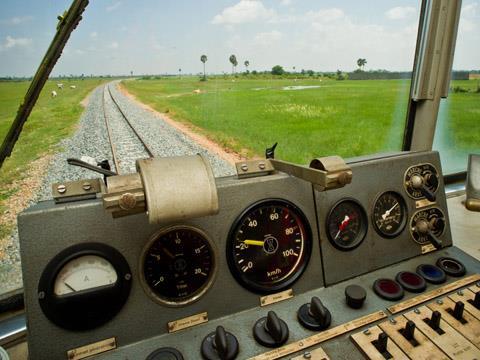 SOUTHEAST ASIA: A ground-breaking ceremony at Poipet in Cambodia on July 25 marked the start of work to reinstate the cross-border railway to Thailand.
The ceremony was attended by Cambodia's Deputy Minister for Public Works & Transport Guang Sun and Thailand's Permanent Secretary for Transport Soithip Traisuth. The attendees viewed the site of a 43 m long bridge over a stream close to the border with Thailand; reconstruction of this bridge is a priority, with construction of 42 km of new 1 000 mm gauge railway between the existing Cambodian railhead at Sisophon and Poipet already underway. A further 6 km of line will be reinstated to reach the State Railway of Thailand network at Aranyaphrathet. The last trains ran on the Aranyaphrathet – Poipet line in the early 1970s.
The Thai government has already agreed to fund the 2·8bn baht upgrading and double-tracking of the 176 km line from Aranyaphrathet to the junction at Khlong Sib Kao, northwest of Bangkok. The Thai government has agreed to focus on implementing long-planned cross-border rail schemes ahead of the launch of the ASEAN Economic Community in 2015.