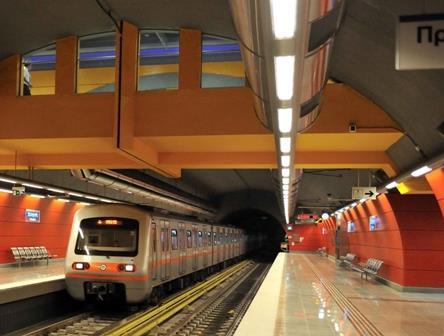 GREECE: Attiko Metro Chairman Christos Tsitouras officially opened Holargos station, between Nomismatokopio and Ethniki Amyna on Line 3, with a ceremony on July 23. The new station 22 m below Messogion Avenue is expected to handle 20 000 passengers/day.
Holargos is one of three intermediate stations being built on Line 3. The suspension of services on the Ethniki Amyna - Halandri section for station construction between February and September 2009 is estimated to have cost Attiko Metro €4·5m in lost revenue. Nomismatokopio opened on September 2 2009 but Holargos was delayed by archaeological excavations. Key finds, including an ancient road to Messogia, are on display at Holargos. The remaining station, Agia Paraskevi, is expected to open in September.
Work is still progressing on the 1·4 km Line 3 extension from Egaleo to Haidari, and on two extensions of Line 2, 1·5 km northwest from Agios Antonios to Thivon and 5·5 km southeast from Agios Dimitrios to Elliniko. In June EIB agreed to lend Attiko Metro a further €500m to fund the extensions, which include seven stations and are now due to open in the first half of 2011.
Sections of Line 1 are currently closed for ongoing track renovation but financial constraints mean the future of the proposed Line 1 extension north from Kifissia is unclear. The government's austerity plan includes rationalisation of public transport in Athens to reduce costs, under an initiative supervised by the Ministry of Infrastructure, Transport & Networks.