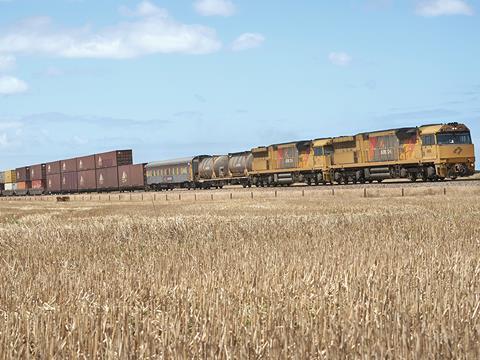 AUSTRALIA: Aurizon Holdings Ltd has announced its intention to withdraw from the intermodal market, with the closure or sale of its activities in the sector.
The decision announced on August 14 followed a 12-month review of options including retention, divestment, joint ventures or the closure of activities that it felt did not have a sustainable future.
Aurizon has signed a binding agreement to sell its Queensland Intermodal business to a consortium of Linfox and Pacific National, with the transfer of assets, commercial and operational arrangements and around 350 employee positions. It aims to finalise the transaction by the end of the 2018 financial year, subject to regulatory approval.
A separate binding agreement covers the sale of the Acacia Ridge Intermodal Terminal to Pacific National, with the transfer of approximately 30 employee positions. The site's wagon maintenance facility will continue to be operated by Aurizon under lease arrangements.
The two transactions are valued at A$220m; if the Acacia Ridge transaction is not completed within six months then Pacific National would pay an additional A$5m.
The remainder of Aurizon's Intermodal business outside Queensland is to be closed by December 2017, with redundancy and redeployment affecting around 250 jobs. Aurizon plans to cascade some 1435 mm gauge rolling stock to other parts of its business, and dispose of surplus assets.
'In making the decision to exit, we considered the significant financial losses that have been sustained year on year by Aurizon Intermodal', said MD & CEO Andrew Harding. 'The business has not been able to establish significant scale and a customer base to support a profitable business in such a highly competitive market. While a difficult decision for affected employees, exiting the business will allow the company to focus on core, profitable parts of the Aurizon portfolio including the ability to recycle capital into other growing parts of our business.'