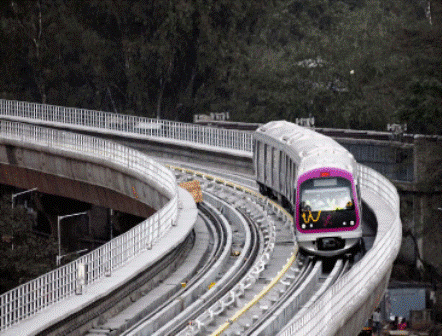 INDIA: The first section of the Bangalore Metro Rail network will officially open on October 20, according to D V Sadananda Gowda, the Chief Minister of Karnataka. He said the 6·7 km 'Reach 1' from Byappanahalli to Mahatma Gandhi Road would be inaugurated by the national government's Urban Development Minister Kamal Nath, as Prime Minister Manmohan Singh will not be available.
Bangalore Metro Rail Corp received its formal safety certificate for its first section of line from the Commissioner for Railway Safety Dinesh Kumar Singh on September 23, and this stipulates that public services should start within two months.
The elevated Reach 1 alignment forms the eastern section of Bangalore's 18·1 km east-west line, serving six stations. The next stage includes a 4·9 km underground section through the city centre from MG Road to the main railway station, adding four more stations, after which the line will return to viaduct for the 6·5 km Reach 2, which will serve five intermediate stations before terminating at Mysore Road on the western side of the city.
BMRC is also developing a 24 km north-south route from Yeshwanthpur to RV Road, which will have 21 stations. This line includes a 3 km underground section with three stations in the city centre, including an interchange to the east-west line at the main station. Longer term plans include a northern extension from Yeshwanthpur to Hesargatta Cross in the northwest and a southern extension from R V Road to Puttenhalli Cross. Phase II of the network would add another 66·9 route-km, with all four radial routes extended further into the surrounding suburbs.