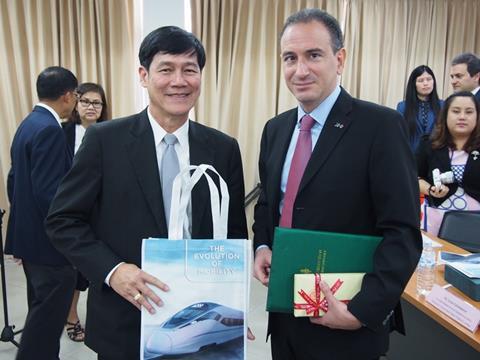 THAILAND: A memorandum of understanding for the provision of engineering expertise to students and instructors over the next four years has been signed by Bombardier Transportation, Navamindradhiraj University, King Mongkut's Institute of Technology Ladkrabang, Krungthep Thanakom, Bangkok Mass Transit System and AMR Asia Co.
The partners are to collaborate to develop training and expertise in the urban rail sector, with Bombardier to work with Urban Community College of Bangkok to develop an associate degree programme in rail technology. The agreement also covers naval, aircraft and associated industries.
'Bombardier is fully committed to developing local expertise in Thailand', said Gregory Enjalbert, head of Asia-Pacific at Bombardier's Rail Control Solutions business. 'We are able to contribute our almost 20 year's presence in the Thai rail industry, a highly skilled team and prior experience in working with the educational sector. I will be very proud to see the first graduates benefit from this new partnership.'
Bombardier has worked with Kasetsart University since 2013 to provide rail engineering education.