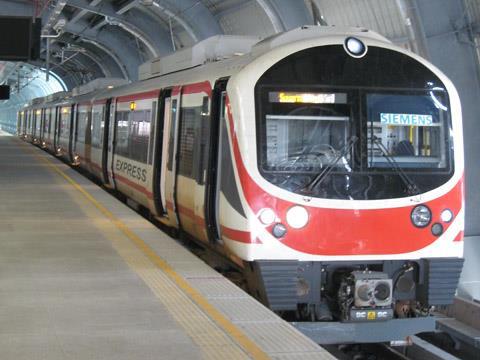 THAILAND: The 28·8 km airport rail link connecting Bangkok city centre to Suvarnabhumi International Airport started commercial operations on August 23. State Railway of Thailand had been running a free trial service since June 1 carrying around 17 000 passengers/day.

Express and stopping services are available on the route, which operates between 06.00 and 24.00. City Line trains depart every 15 min from Phaya Thai and take 30 min to reach the airport. Single tickets cost 15 baht.
Express Line services depart Makkasan every 30 min offering a 15 min non-stop trip to Suvarnabhumi at a fare of 100 baht. Luggage check-in facilities at Makkasan station are expected to open by the end of the year.


According to SRT, 11 construction companies have bought bidding documents for two civil works contracts, valued at 45bn baht, covering the 26 km elevated section of the Red Line from Bang Sue to Rangsit. Submissions are due on December 1 and 2. Tender documents for the 20bn baht contract to supply signalling and telecoms, power supply and other installations are expected to go on sale later this month. Contract award is envisaged by June 2011 with construction of the Red Line expected to take four years.