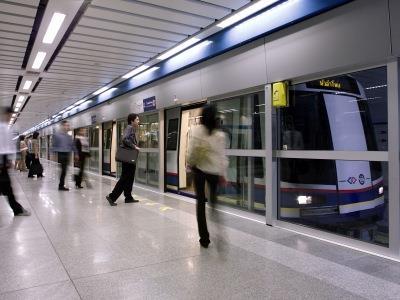 THAILAND: Mass Rapid Transit Authority has awarded a further package of civil works valued at 46·6bn baht covering construction of extensions to the Bangkok Blue Line heavy metro (table below).
These works would see the completion of a loop connecting the existing termini at Bang Sue and Hua Lamphong via the western side of the city. There would be 11 km of mainly elevated alignment, together with 5·4 km running underground from Hua Lamphong to a junction at Tha Phra, including a tunnel below the Chao Phraya river. From Tha Phra, a 10·5 km western branch would be built to Lak Song on an elevated alignment.
The latest awards include two project management and consultancy contracts, awarded to the MAA Group and The Index Group respectively, which are worth 1·9bn baht in total. Ch Karnchang is to be responsible for the supply of rolling stock under another 10·7bn baht deal. The Ministry of Transport told the winning candidates that it expected the extended line to be open for revenue service by the end of 2015.
Meanwhile, MRTA has agreed to call tenders for two contracts worth a total of 14·8bn baht for the planned 12·6 km extension of the BTS Skytrain Sukhumvit Line from Bearing to Samut Prakan. Construction of this line would be managed by State Railway of Thailand, and opening is scheduled for 2016.
Blue Line civil works contracts
| Section | Length km | Contractor | Type | Value baht bn |
| --- | --- | --- | --- | --- |
| Hua Lamphong – Sanam Chai | 2·8 | Italian-Thai Development | Design & build | 11·4 |
| Sanam Chai – Tha Phra | 2·6 | Ch Karnchang | Design & build | 10·7 |
| Taopoon – Tha Phra | 11·0 | Sino-Hydro Corp/ Unique Engineering & Construction JV | Construction | 11·3 |
| Tha Phra – Lak Song | 10·5 | Sino-Thai | Construction | 13·3 |