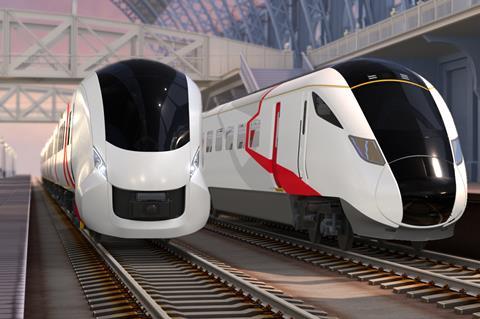 UK: Hitachi Rail and battery company Hyperdrive Innovation have signed a memorandum of understanding for the joint development of a battery pack suitable for powering trains, and a roadmap towards a manufacturing agreement which would cover any future orders.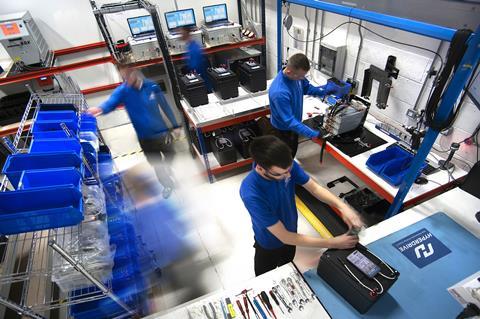 The battery packs would be manufactured at Hyperdrive's HYVE facility in Sunderland, which supplies lithium-ion batteries for the automotive, construction and energy sectors. They would be installed at Hitachi Rail's rolling stock plant in Newton Aycliffe.
Hitachi estimates that there is a potential market for over 400 battery trains in the UK. It said its existing trains were 'potential early recipients', along with new trains that would be needed to replace ageing diesel fleets in the coming years. As well as eliminating emissions at the point of use, retrofitting batteries could extend the range of existing trains and allow through running of electric trains onto non-electrified branch lines.
'The partnership with Hyperdrive creates shovel-ready opportunity for new battery trains to be ordered now', said Andrew Barr, Group CEO, Hitachi Rail, on July 6. 'As well as new trains, this is also a window of opportunity to cut carbon and supercharge a green recovery in the northeast and across the UK.'
Founded in 2012, Hyperdrive Innovation designs and manufactures lithium-ion battery systems for powering off-highway and material handling vehicles as well as stationary and portable energy storage systems. Customers include JCB, Northern Powergrid and an online grocery retailer.
In 2016 it completed a £19m high energy density battery project in collaboration with Nissan and the Advanced Propulsion Centre, backed by Innovate UK funding.
Lower life-cycle costs than hydrogen
Hitachi said battery costs and weight are falling at an accelerating rate. At the moment battery trains have 50% lower life-cycle costs than hydrogen trains, the company said, making battery 'the cheapest and cleanest alternative zero-emission traction solution for trains'.
In 2007, Hitachi and Porterbrook Leasing fitted a HST power car with a prototype battery system. The diesel-battery vehicle was named 'Hayabusa', and according to Hitachi it ran for more than 100 000 km and provided a 15% fuel saving during the period of trial operation.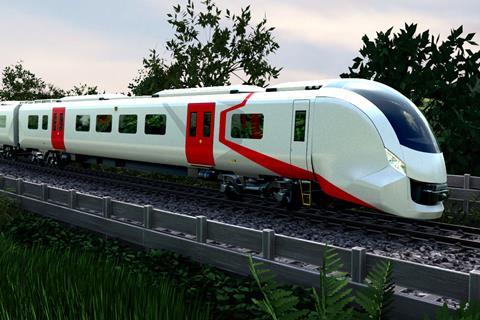 In 2016 Hitachi supplied Dencha electric-battery multiple-units to Japan's Kyushu Railway, and these operate on two routes and provide an off-wire range of 50 km.
The fleet of five 25 kV 50 Hz inter-city trainsets ordered by FirstGroup for its London – Edinburgh open access service will have batteries to provide back-up power, instead of the underfloor diesel powerpacks on similar Class 800/801 trainsets specified by the Department for Transport.
On July 1 the Hitachi ABB Power Grids Ltd joint venture with ABB was formed, providing Hitachi with access to fast charging technology.