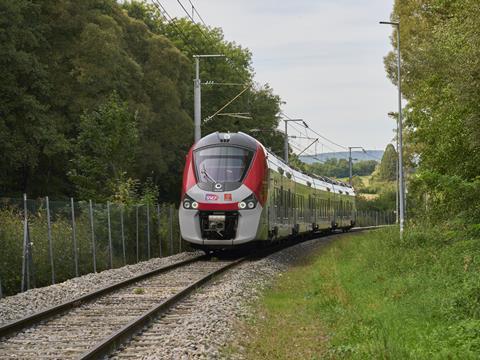 FRANCE: SNCF Voyageurs and Alstom have unveiled the first tri-mode battery-electro-diesel Régiolis train, converted from an existing four-car bi-mode trainset that entered service in 2016 in the Occitanie region.
In keeping with SNCF's stated target to phase out diesel traction in all its trains by 2050, the national operator has launched its PlaneTER programme that aims to decarbonise regional services currently operated by DMUs by converting them to run on biofuels, hydrogen or batteries.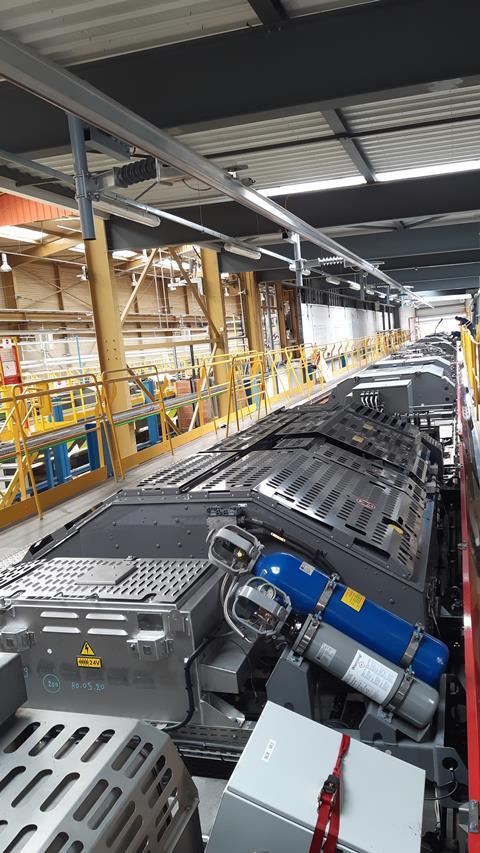 Alstom has replaced two of the four diesel engines of the testbed with lithium-ion battery packs, while preserving the electro-diesel train's range of approximately 1 000 km on non-electrified lines. According to SNCF, 90% of braking energy can be regenerated, enabling the converted train to achieve 20% lower energy consumption. In tests, the tri-mode Régiolis retained its maximum operating speed of 160 km/h.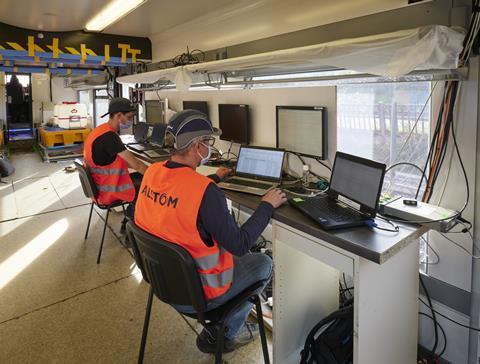 According to Carole Desnost, Head of Technology, Innovation & Projects at SNCF, the tri-mode Régiolis can run for between 23 km and 27 km on battery power alone, depending on the operating speed, achieving a 10 dB reduction in noise levels compared to diesel.
Alstom and SNCF have spent €16·8m in developing the tri-mode variant; once it has been certified by the regulatory authorities, it is expected to be put into commercial operation in 2023 on selected routes in four regions. If commercial operation in Grand Est, Nouvelle-Aquitaine, Centre-Val-de-Loire and Occitanie proves successful, widespread conversion of the existing Régiolis fleet could get underway. According to SNCF Voyageurs, there are 230 bi-mode trains that could be converted, but none of the regions have placed any firm orders to date.
Alstom's Reichshoffen plant is in the process of being sold to CAF part of the provisions for Alstom to acquire Bombardier Transportation. CAF will take over leadership of the Régiolis project in May 2022, but will continue to work with the other Alstom plants involved.