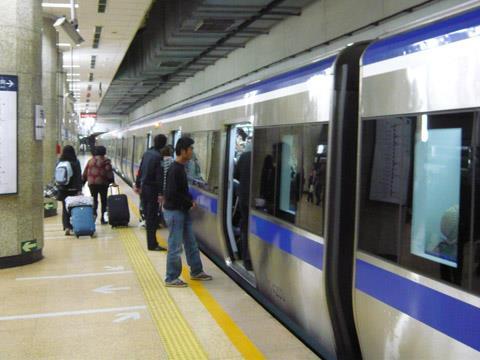 CHINA: Five further sections of the Beijing metro, with a combined length of 69·8 km, were put into revenue service on December 30. Adding one new line and extending three more, these projects bring the 16-line network to 442 route-km and 261 stations, overtaking Shanghai as the longest metro in the world.
The first phase of Line 6 runs across the city from northwest to southeast, connecting Haidian Wuluju to Caofang. This 30·4 km route has 20 stations, including interchange to lines 2, 4, 5, 9 and 10.
The second phase of Line 10 extends the route at both ends. One section heads south from the former western terminus at Bagou to Xiju, adding nine stations. The other runs south from Jinsong along the eastern side of the city and then turns west to Shoujingmai, adding a further 12 stations and bringing the line to 54&midot;8 km with 42 stations. Only a short section through Fengtai district from Shoujingmao to Xiju remains to complete a second ring line following the capital's third ring road. This outer loop is intended to relieve the inner loop Line 2 which follows the second ring road.
A northern extension of Line 9 from its former terminus at Beijing West Station to an interchange with Line 4 at the National Library finally connects this isolated line into the metro network, adding four more stations. As well as a connection with Line 6 at Baishiqiao South, interchange has also been provided to the western extension of Line 10 at the existing Liuliqiao station.
In the north of the city, the short Line 8, which was originally built to serve the Olympic Park and subsequently extended northwards, has been extended south from Beitucheng on Line 10 to Guloudajie on Line 2, with one intermediate station at Anhuaqiao; a second at Andeleibejie is expected to follow shortly.
Now carrying around nine million passengers a day, Beijing Metro expects to put at least one new line into operation each year between 2013 and 2015. This would bring the network to 19 lines and 561 km; in the longer term the capital's metro is is projected to reach 1 000 km by 2020.