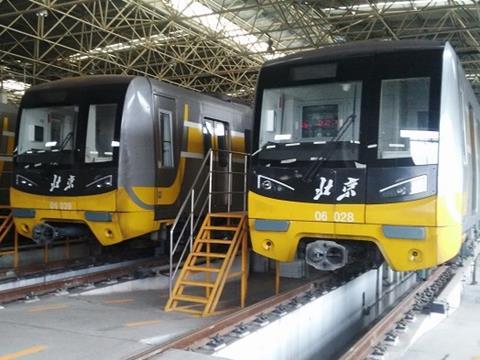 CHINA: Alstom and its local joint venture Shanghai Alstom Transport Electrical Equipment Co have won a €27m contract to supply traction equipment for 160 metro cars for Phase 3 of Beijing metro Line 6.
The rolling stock is being supplied by CRRC's Changchun division and is expected to enter service by the end of 2018.
The cars will use Alstom's Optonix traction equipment designed for the Chinese market. SATEE is to supply the propulsion inverter, auxiliary converter, brake resistor, master controller, gearbox and coupling, as well as electric brakes, which are to be tested at SATEE's facility in Shanghai. Traction motors will be produced by Alstom's Xayeeco joint venture in Xi'an. Alstom is also to supply circuit breakers and traction controls.
When the 9 km western extension of Line 6 is completed, the east-west line is expected to carry 1 million passengers per day.
Alstom has so far provided traction equipment for 692 metro cars on the Beijing metro, currently in operation on Line 15 and the first two phases of Line 6.