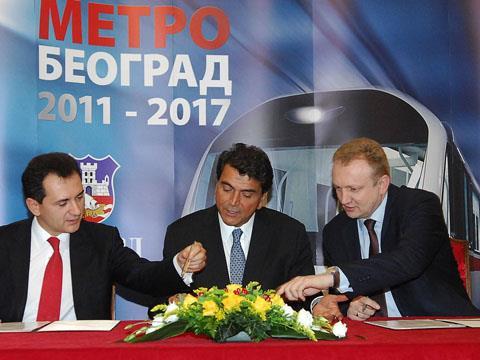 SERBIA: Plans for a metro in Beograd are to be developed following the signing of a memorandum of understanding by Mayor Dragan Djilas and representatives from Alstom Transport and the Serbian and French governments on November 18.
Alstom and the city council have agreed to define a framework for co-operation in planning the project, with the aim of signing a contract once funding is agreed. Alstom envisages being responsible for tracklaying, electrification, signalling equipment and rolling stock.
The city said Egis Rail will use French government funding to produce an overall metro concept for the city, and more detailed designs for the initial line.
The city's urban master plan for 2012 envisages Line 1 as a Y-shaped route on the south side of the Danube, linking Ustanicka-Novi Merkator to Tvornicka with a branch to Novi Beograd station. This would have a total length of about 15 km and 25 stations. Lines 2 and 3 would follow in the longer term.
'For 40 years the citizens of Beograd have dreamed of a metro', said Djilas. 'We have managed to realise many other dreams for the development of Beograd in recent years. This is the best proof that the metro will not remain just a dream but will become a reality for all citizens and guests of our city'.