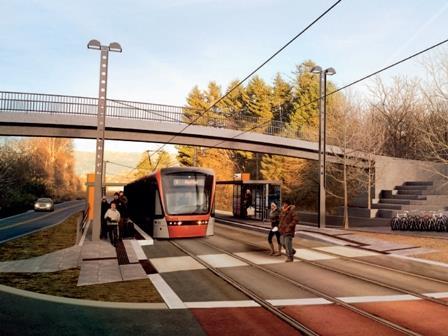 NORWAY: A blast of dynamite at midday on January 7 triggered the official start of work on a NKr1·4bn project to expand Bergen's Bybanen light rail line. The ceremony was attended by the chairman of Hordaland County Council Torill Selsvold Nyborg, Commissioner Lisbeth Iversen, local politicians and dignitaries.

Construction of the 3·6 km extension from Nesttun to Lagunen via Fanavegen and Skjold is expected to take two years. Contracts worth NKr360m were awarded to Norwegian contracting group Mesta in December for work on two sections of route totalling 3·1 km. Testing is due to start in late 2012 with opening envisaged in summer 2013.

The project is being financed with funds from Hordaland Council and revenue from the local road toll. The extension will serve residential and business areas south of the city as well as Lagunen shopping centre, where car parking facilities will be provided.

The initial 9·8 km line between Bergen city centre and Nesttun was opened by Queen Sonja on June 22 2010. A further extension to Flesland is also planned.