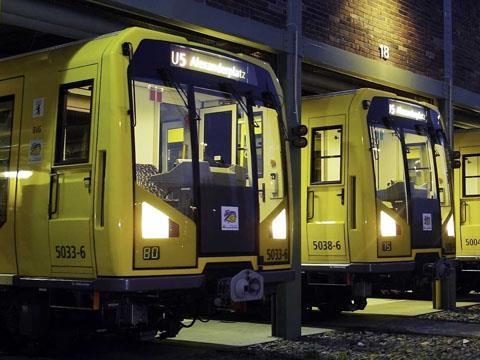 GERMANY: Berlin's U55 underground metro line between Brandenburger Tor and Hauptbahnhof finally entered service on August 8, following inauguration by the city's mayor Klaus Wowereit. Passengers were able to travel for free to mark the occasion.
The 1·8 km line and its three stations cost €320m to build and took about 13 years, as work was suspended between 2001 and 2004 due to rising costs. The line runs through the heart of Berlin's historic centre and construction was hampered by difficult soil conditions.
The intermediate Bundestag station, which serves the Federal Chancellery and Parliament, was designed by architect Axel Schultes, who also designed the chancellery building.
The line is worked by two refurbished four-car trainsets transferred from Lines 8 and 9. One trainset shuttles between the stations every 10 min, taking around 3 min to complete the 1·8 km trip, with the second train as a back-up.
The line will eventually form part of an extension of Line U5, which serves the eastern suburbs and currently terminates at Alexanderplatz. Work on the missing section between Brandenburger Tor and Alexanderplatz is expected to start in 2010, for completion in 2017 at the earliest. The cost is put at €433m.