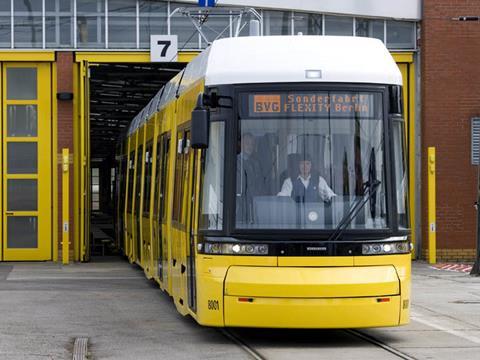 GERMANY: Berlin city transport operator BVG unveiled the first of four pre-production prototypes for the German capital's next generation of trams on September 19.
Bombardier Transportation's Bautzen plant is supplying four pre-series Flexity Berlin vehicles under a contract placed in September 2006. If the 100% low-floor cars prove successful, the Hennigsdorf plant will produce a further 206 to enable BVG to replace 452 Tatra vehicles dating back to 1976. The Tatras were modernised in 1994-97, but it was not possible to make them fully accessible at a realistic cost, and so they will be withdrawn in early 2010.
The initial car is a 40 m single-ended vehicle. A bi-directional version will be unveiled at InnoTrans, and the remaining pre-series cars will be delivered by mid-December.
The new vehicles are 200 mm wider than the Tatras, and 100 mm wider than BVG's existing low-floor vehicles. They have two multifunction areas, with space to carry two wheelchairs, at least two pushchairs and a bicycle.
External information is shown on LED displays, while inside TFT screens list the next six stops and connections; this information will initially be static, but dynamic updating is planned. Onboard ticket machines will take card payments.
Bombardier commissioned IFS to style the trams, producing a Bauhaus-inspired appearance unique to Berlin. 'The new Berlin trams will meet the highest expectations of a modern, accessible, attractive form of transport in a way which emphasises service and is geared towards the future,' said Mayor Ingeborg Junge-Reyer. 'Modern yet timeless, a perfect balance between convention and innovation, this means of transport simply seeks to fulfill the needs of all groups of users.'
Passengers will get their first chance to ride the car on route M4 at the end of October, with routes M2, M5, and M10 to follow.
Flexity Berlin pre-production trams
Version
Passengers
Seats
40 m unidirectional
248
84
40 m bidirectional
245
72
30·8m unidirectional
189
60
30·8m bidirectional
184
52
Railway Gazette International is the official international media partner of InnoTrans. Meet the team at Stand 221 in Hall 1.2