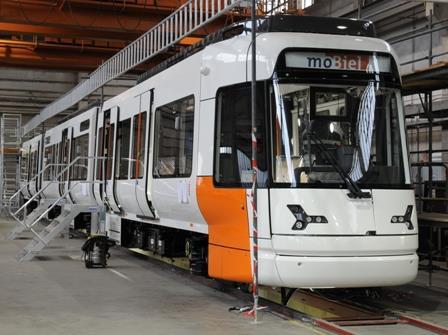 GERMANY: The first of 16 high-floor light rail vehicles for Bielefeld city transport operator MoBiel was presented to a select audience at HeiterBlick's Leipzig plant on April 14.

MoBiel placed a €47m order for the cars with a consortium of Vossloh Kiepe and HeiterBlick on January 26 2009. Vossloh Kiepe has supplied the electrical equipment for the vehicles, which have been assembled by HeiterBlick. The contract includes options for a further 25 vehicles.

The three-section bi-directional vehicles, branded Vamos, are 34 m long, about 7 m longer than the existing M8C and M8D cars working Bielefeld's metre-gauge network. As the platforms are designed for 2 300 mm wide cars, the Vamos design widens to 2 650 mm above platform height, creating space for 230 passengers.

The cabs are equipped with open consoles and two Kiepe touchscreen displays handle most of the operational functions. The air-conditioned cars have passenger information screens showing the destination, route map and real-time connection options.

The first vehicle will be delivered to Bielefeld in June for testing before entering revenue service in the autumn.