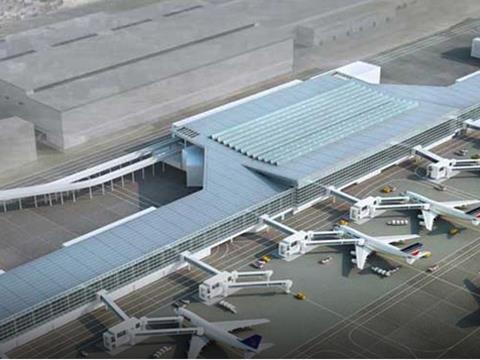 UAE: Bombardier Transportation has been awarded a 392m dirham contract to design and build an 1·5 km elevated automated peoplemover to link Terminal 1 with the future Concourse 4 at Dubai International Airport. The peoplemover will have a capacity of more than 200 000 passengers/day.
Dubai International Airport is being expanded to increase capacity from 60 million to 90 million passengers/year by 2018. Bombardier will act as subcontractor to Al Jaber LEGT Engineering & Contracting, which is building Concourse 4 under a 28-month contract worth 3bn dirham awarded in February by Dubai Aviation Engineering Projects.
Under its 24 month contract, Bombardier will lead the design and supply of the electrical and mechanical elements of the peoplemover, including 18 Innovia APM 300 aluminium-bodied cars with a top speed of 80 km/h and Cityflo 650 communications-based train control for driverless operation. Bombardier will also undertake project management, systems engineering and integration, as well as testing and commissioning. Much of the technology will be supplied from the company's site at Pittsburgh in the USA.