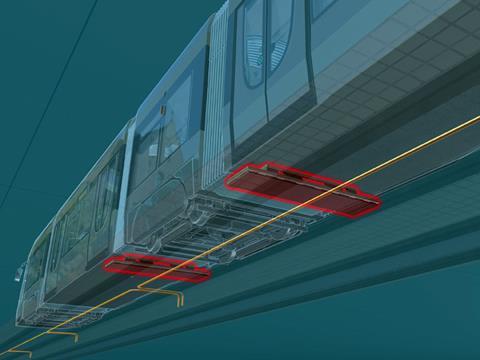 GERMANY: The Primove induction-based catenary-free electrification system developed by Bombardier Transportation is to be piloted on the tram network in Augsburg, the manufacturer announced on May 26.
Formally unveiled at Bombardier's Bautzen factory in January 2009, Primove uses cable buried beneath the track to produce a magnetic fields which induces electric current for traction power in pick-up coils mounted underneath the vehicle.
It will be installed on a 0·8 km branch from Augsburg Line 3 which serves the city's exhibition centre. This will enable Bombardier to demonstrate the technical capabilities and electromagnetic compatibility of Primove, which is a potential competitor for Alstom's APS ground-level power supply in locations where overhead electrification is considered undesirable.
'Our expectation for the Primove pilot project is to gain further insights into new developments in energy management and energy savings in tramway operations', said Stadtwerke Augsburg Verkehrs Managing Director Norbert Walter. 'We will also co-operate with the Augsburg University of Applied Sciences'.
Bombardier is currently supplying Augsburg with 27 Flexity Outlook trams. The first arrived last year and deliveries will run to the end of this year.
Primove was described in detail by Gerald Newesely and Dr-Ing Carsten Struve of Bombardier in the December 2008 issue of Metro Report International