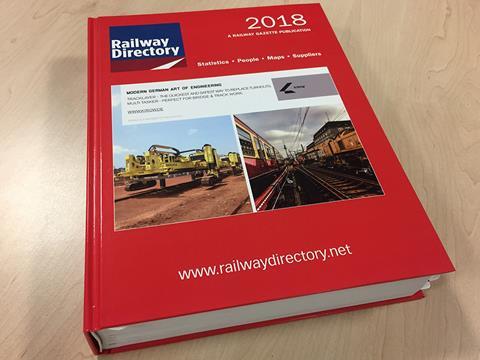 RAILWAY DIRECTORY: Since 1895 Railway Directory has provided a comprehensive overview of the world's railway sector. Its distillation of key facts and statistics in a consistent format has long been widely acknowledged by railway professionals as an indispensable source of information and an essential tool for doing business in this market.
At 848 pages, the 123rd edition is around 20 pages larger that the previous edition, providing even more data about today's increasingly globalised railway industry, with the emergence of new railway and metro operators, suppliers and consultants.
The 2018 edition provides data and contact details for 5 593 organisations in 142 countries, together with listings for more 22 000 senior executives and 207 full-colour maps of the rail networks in every country and 149 major cities.
1 582 main line railways, train operators and infrastructure managers;
663 urban rail operators;
329 government and regulatory bodies;
230 industry associations;
Arranged by product category and geographical region, the buyers' guide includes entries for 2 789 manufacturers, suppliers and consultants. To simplify searching, entries are grouped by country within six main categories: rolling stock, components, traction & control, infrastructure, data & information systems, and consultants & support services.
Railway Directory 2018 is available for €500 including postage, and also provides a year's access to the complementary online version.
ISBN 978-1-9998770-0-2
DVV Media International, Chancery House, St Nicholas Way, Sutton, Surrey SM1 1JB, UK.