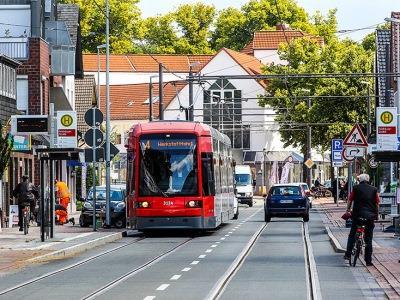 GERMANY: A 5·5 km extension of Bremen tram Route 4 was officially inaugurated at 14.00 on August 1, with a public ceremony on the following Sunday.
The 10-stop extension from Borgfeld to Falkenberg in the neighbouring town of Lilienthal is the first of the city's tram routes to cross the boundary into the Land of Niedersachsen.
Construction started in early 2011. The route runs along a grass median strip on Borgfelder Allee before using a segregated track east of the road and the Flutbrücke before crossing the River Wümme and continuing into Lilienthal, where there is a mix of on-street and segregated running before a turning loop.
At Falkenberg there is a park-and-ride site with 140 car parking spaces and space for 100 bicycles. The journey time from Borgfeld to Falkenberg is 12 min, with trams running every 15 min in the peaks and 20 min off-peak. The extension is expected to increase ridership on Route 4 from 105 million to 110 million passengers/year.
The funding split was 36·5% from the federal government, 34·5% from Nidersachsen, 8% from Bremen, 16·5% from Lilienthal, 3% from utility companies and 1·5% from the Zweckverband Verkehrsverbund Bremen/Niedersachsen transport authority.