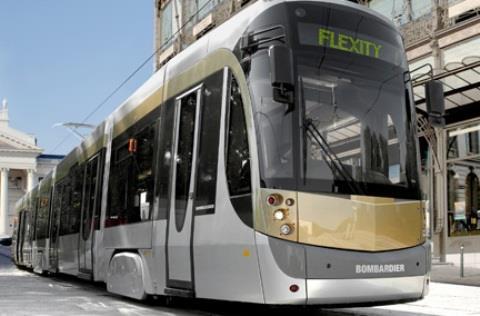 BELGIUM: At an event hosted by Brussels transport operator STIB on October 12, two Flexity Outlook trams were dispatched on a lengthy voyage to Vancouver, where they are destined to operate a shuttle service during the 2010 Olympic and Paralympic Winter Games.

The first leg of the journey will take the 32 m long vehicles to Bremerhaven in Germany, where they will be shipped to Canada via the Panama Canal. They are scheduled to arrive in Vancouver by early December.

Bombardier Transportation and the City of Vancouver are co-sponsors of the Olympic Line project. The Canadian company is an official supporter of the 2010 Olympic and Paralympic Winter Games and has also designed and manufactured the Olympic torches.

The 1·8 km Olympic Line will provide free passenger services between the Olympic and Paralympic Village and Granville Island, a key entertainment centre during the Games. From January 21 to March 21, Bombardier will operate the service 18 h/day, seven days a week, with the two trams running at 6 to 7 min intervals. During the 60 day demonstration the line is expected to carry over 500 000 residents, visitors and athletes from all over the world.

Speaking in Brussels, Bombardier Transportation President André Navarri said 'population growth, urbanisation, congestion and pollution are all resulting in a "renaissance" in public transport and with it a revival of the tram. We are delighted to be able to demonstrate this increasingly popular public transport solution to the City of Vancouver.'

'We are very proud that our Flexity Outlook with its Art Nouveau design has been selected by our colleagues as an example of what a modern and efficient tram should look like,' added STIB CEO Alain Flausch. The Brussels low-floor cars received the Henry Van de Velde award in 2007 for their contemporary interpretation of the Art Nouveau style, and a Design at Work award in 2008 for innovative product development and outstanding design qualities.