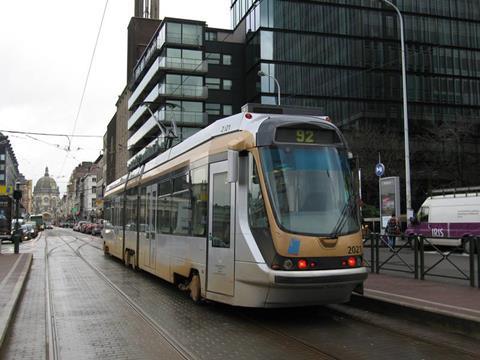 BELGIUM: The Flemish government has approved plans to build three tram lines linking Brussels with towns beyond the city boundaries. The project has a budget of €500m, although permission to start work has not yet been granted. The lines could open as soon as 2020, with De Lijn the most likely operator.
The three routes, branded Brabantnet, would have a combined length of 60 km, of which 15 km would make use of existing tram lines in Brussels.
One route would run from Brussels Nord to Willebroek via Tours & Taxis and Bockstael, following the route of the A12 motorway, with an end-to-end journey time of 30 min. The second route would link Brussels Nord with Brussels Airport via Schaarbeek and Haren, with a journey time of 25 min. The third route would run alongside the Brussels Orbital Road around the north of the city to link the airport with Jette via Vilvoorde; the end-to-end journey on the route would take 40 min.
'A transregional tram network is a win-win situation', said Brussels transport minister Brigitte Grouwels. 'This project will demonstrate the value of good interregional co-operation.'
Other projects in the Brabantnet package to be developed over the longer term could include northern extensions from Willebroek to Boom and Bornem, and a western line from Brussels to Ninove, but plans for an eastern orbital route from Haacht to Tervuren via the airport have been dropped.