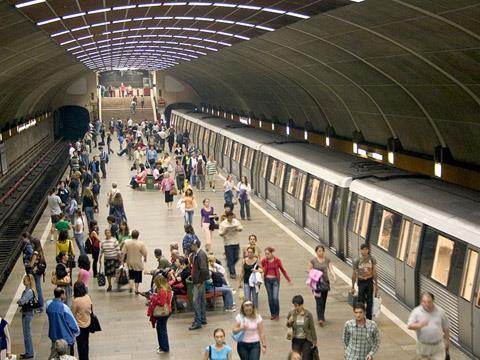 ROMANIA: Bucureşti metro operator Metrorex has announced that it is to spend 1·74bn lei on infrastructure investment in 2015, as part of preparations for the Euro 2020 football championships.
Bucureşti will host up to four matches during the tournament. UEFA made the city's participation conditional on infrastructure investment and public transport improvements.
Metrorex is to spend 33·5m lei on design and technical assistance for land acquisition for Line 6. The long-planned link to Henri Coandă International Airport is due to open in time for Euro 2020. It would diverge from Line 4 at 1 Mai and run for 16 km northwest to the Otopeni district. Completion of the Gara de Nord – Otopeni route is expected to reduce car traffic in the city by up to 4 million trips a year.
A further 150m lei has been allocated to extend Line 4 from Parc Bazilescu to Lac Străulești. Opening is planned for 2018.
Work on Line 5 is ongoing, and the entire 17·6 km route from Drumul Taberei to Pantelimon is due to open by 2020.