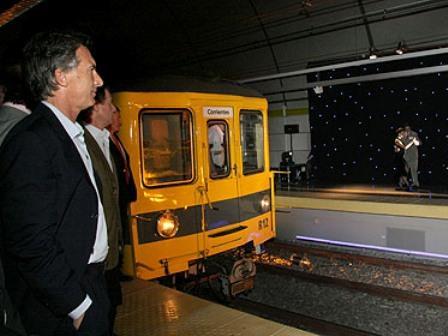 ARGENTINA: A one-station extension of Buenos Aires metro Line H from Once to Corrientes entered service at 15.00 on December 6, following its inauguration by Buenos Aires Mayor Mauricio Macri. Construction took 4½ years.
Corrientes is located 23 m below the surface and cost US$160m to build. Like the rest of Line H, the station murals reflect the theme of the Argentine tango, in this case the Cambalache composed by Enrique Santos Discépolo.
Line H is now 4 km long with six stations, and provides transfers to Line E at Humberto I, Line A at Once and Line B at Corrientes. Daily ridership on Line H, currently 20 000 passengers, is expected to double owing to the new interchange with Line B, which carries 400 000 passengers per day and is overcrowded during peak hours. Three additional trains have been made available and headways on Line H may be reduced from 7 min to 6 min to cope with demand.
Work is already underway on a southern extension of Line H from Caseros to Parque Patricios, due to open in October 2011, and Hospitales, which should follow in May 2012.
Tenders were called on July 31 for civil works on the next section from Hospitales to Sáenz and Nueva Pompeya and the northern extension between Corrientes and Plaza Francia, as well as a depot at Parque Patricios and 17 air-conditioned trains. The project would take 4½ years. However, although international funding has been negotiated, the start of work has been delayed until detailed planning is completed.
The completed route would run from Retiro to Pompeya and have 14 stations, providing additional connections to Line D at Santa Fe and to Lines C and E at Retiro.
* Extensions of Line A to Nazca and Plaza Flores, and Line B to Villa Urquiza are due to open in October 2011 while a 2·3 km extension of Line E should reach Retiro in March 2012.