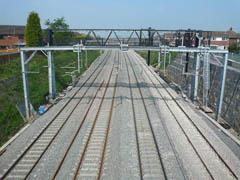 UK: International technical and management support services company AECOM has acquired Tritech Rail, a civil engineering consultancy specialising in rail infrastructure surveying, design and electrification work.
'We are now able to offer clients a broader range of services including infrastructure surveying and design, route clearance and structure gauging analysis, project and technical support from feasibility through to commissioning', said David Watters, Managing Director of AECOM's European Transportation business.
Wigan-based Tritech was founded in 1999 as a permanent-way engineering consultancy. It has undertaken surveying for the East London Extension and Derby Etches Park depot projects, and design work for London Underground's Victoria Line upgrade and the Thameslink programme. Outside the UK it has undertaken surveying for Dublin's DART.