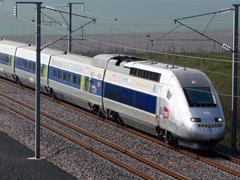 FRANCE: Held every two years, the Sifer trade exhibition returns to its accustomed venue at Lille's Grand Palais on April 5-7 with more than 200 exhibitors from 13 countries already finalised.
Two headline names stand out. Alstom will be exhibiting for the first time as part of the Northern France Railway Cluster. Its stand will showcase the opportunities for lower-cost regional passenger services offered by the Citadis Dualis tram-train design.
SNCF has ordered 31 cars for two tram-train projects; seven for the Pays-de-la-Loire region and 24 for Rhône-Alpes, under a €650m framework agreement for 200 vehicles. Pays-de-la-Loire placed a conditional order for another eight units in March 2009; options for the remaining 161 are still open.
Another exhibitor likely to attract considerable interest, CNR Changchun Railway Vehicles is leading a delegation of six Chinese suppliers which hope to use the show to explore partnership opportunities.
A series of seminars will be held over the course of the three days focusing on regional rail policy, and pavilions will be hosted by the regions of Bourgogne, Pays-de-la-Loire, Seine-et-Marne and Auvergne. They will be showcasing their local railway supply sectors to build upon the success of Nord-Pas-de-Calais in developing its railway cluster.
Staff from the European Railway Agency will also be in attendance to explain the agency's work in establishing and implementing technical standards across the European rail sector.