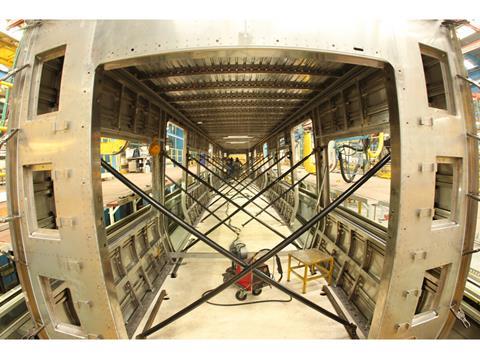 ALSTOM: 'Alstom delivered a very strong commercial performance in its Transport activity during the fiscal year, booking a record level of orders', said Chairman & CEO Patrick Kron on May 6 when he presented results for the year to March 31 2015.
At €10·0bn the order intake was up by 61% on the year before, thanks to large orders including turnkey tram contracts in Qatar and Australia and especially the €4bn 'jumbo rail contract' to supply EMUs to Passenger Rail Agency of South Africa. Sales were up 7% at €6·2bn, with emerging countries representing 30% of the figure. The backlog amounted to €28bn. Operating margin improved to 5·2% thanks to 'good execution and the strict implementation of our cost savings plan', although mitigated by ramp-up costs associated with new product platforms.
Alstom's energy businesses have been classified as discontinued operations, and Kron said that in the future the company 'will be pure-play in transport, with some joint ventures in energy.' The deal for GE to acquire Alstom's energy activities and establish three joint ventures is expected to close 'in the coming months', with the agreements now in place and awaiting regulatory approval. The proceeds would be used to provide Alstom with a solid balance sheet, reduce debt and possibly return cash to shareholders through a share buy-back.
Net income from continuing operations in 2014-15 was impacted by exceptional items, including an agreement to pay the US Department of Justice €720m relating to the Foreign Corrupt Practices Act, and restructuring charges of €100m. There were asset write-offs of €90m in Russia where Alstom's investment in Transmashholding has been hit by the slowing Russian economy and fall in the rouble. However, Kron told analysts that TMH was 'a good investment'. He would not be drawn into speculation as to whether Alstom would increase or decrease its stake in TMH, but said 'we have not changed our view on the potential of the Russian market' adding that the company is in a strong medium-term position there.
Kron emphasised the importance of taking a medium-term view of the industry, as performance in the short term is influenced by the impact of large contracts. Alstom's sales are expected to grow over 5% a year organically, and the operating margin to gradually improve to lie within the range of 5% to 7%.
Kron was not willing to speculate about future industry consolidation, but said the new structure would mean that Alstom 'would be able to move' to benefit from market changes.