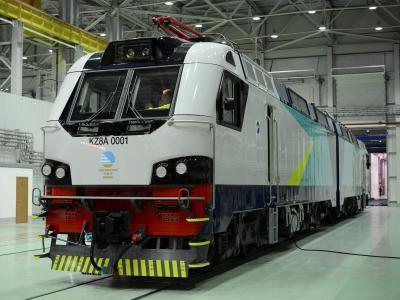 KAZAKHSTAN: Alstom has acquired a further 25% stake in the EKZ locomotive production joint venture from national railway KTZ.
The restructuring now leaves Alstom as the lead shareholder in EKZ, which is based in Astana where it also has a loco production factory. KTZ and Russian supplier Transmash Holding each have a 25% stake. EKZ was established by the three partners in June 2010, since when it has received orders from KTZ for the supply of 200 KZ8A twin-unit freight locomotives and 95 KZ4AT single-unit passenger locomotives. In May this year, Azerbaijan's national railway ADDY placed an order for 50 KZ8A locos.
Alstom announced on December 5 that EKZ has agreed a 25-year maintenance contract with KTZ for the KZ8A and KZ4AT fleets worth €1·3bn. The company reports that KTZ has 24 of the freight locos in traffic, while a KZ4AT locomotive has achieved 200 km/h during dynamic testing.
'By increasing Alstom's share in EKZ, we show our confidence in the attractiveness of Kazakhstan investment environment', said Martin Vaujour, Managing Director of Alstom Transport Central Asia. 'We contribute to the development of new expertise and skills locally to address not only Kazakhstan's needs but also regional ones.'